If you are planning a bathroom revamp and you want some real luxury, there are many add-ons to take the ambience into the 5-star luxury section and we thought we'd put together a few smart and elegant bathroom features to add a little luxury.
LED Lighting – Using a smart device, you can actually have LED lights that change with your mood, plus a dimmer switch gives you fine control over shower illumination. Backlit shower panels add a touch of glamour to any bathroom and the choice of colours are endless. Start with a Google search for 'bathroom lighting' and see what that brings up, while a visit to your local bathroom showroom would be productive. LED light fittings allow you to be very creative and searching online for images should give you the inspiration you need.
State Of The Art Digital Shower – Splash out on a brand new digital shower unit. Once you have experienced a digital shower, you won't want to revert back to a traditional unit. The on-demand heater saves you money, while the water temperature and power of the jets can be set. Visit the local Windsor bath store and check out the digital shower brands on offer. If you live far from the area, a Google search should help you locate a bath store close to you.
Multiple Shower Heads – Why not go the whole 9 yards and have a few shower heads fitted, then give an equal water jet exposure that is adjustable. Any bathroom showroom would have at least one set with multiple shower heads and they are not as expensive as you might think. It's an invigorating experience to stand in the middle of multiple shower heads and with full adjustment, you can create the perfect setting that can be reset at any time.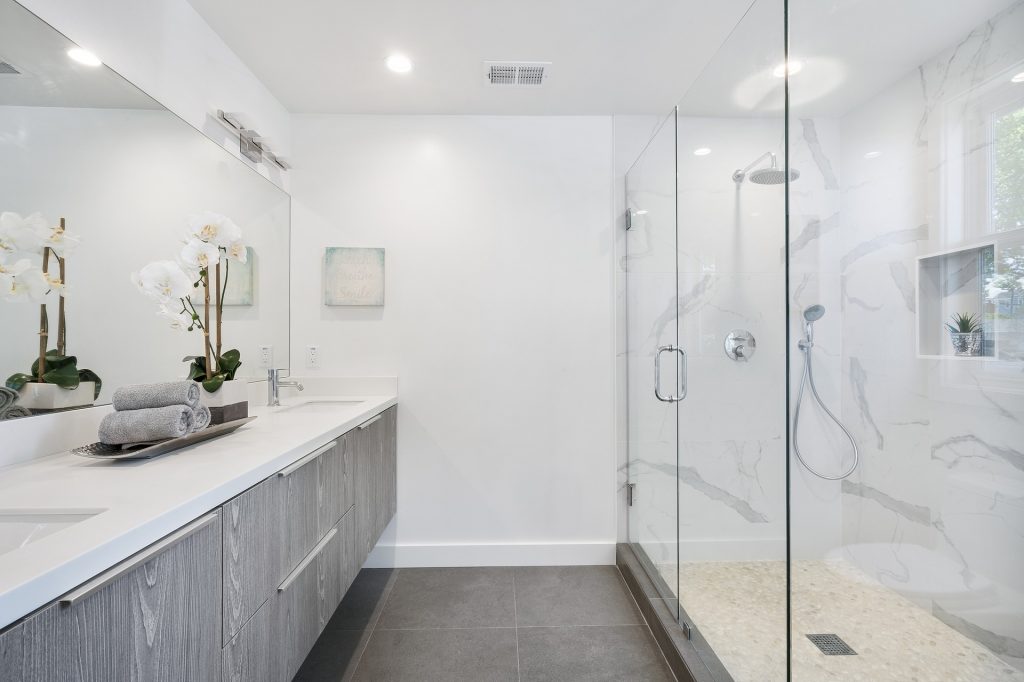 Floor To Ceiling Bathroom Mirrors – Why not go for a luxury setting, with tinted custom mirrors? Check out the settings at your local bathroom showroom, or talk to a nearby glazier and see what they have to say. There is a range of tints and smokes to suit the decor, plus mirror surfaces are easy to clean.
Heated Towel Rails – For the ultimate in luxury, heated towel rails are an easy project for your local handyman and you can source the perfect design at your local bathroom store. While not so necessary in the summer, you will be glad you went to the trouble to have the heated rails installed.
Install A Steam Shower – If you have a large bathroom, why not install a steam shower unit and build a bench, where you can enjoy the sauna sensation. Ideal after a hard day at work and by visiting your local bathroom showroom, you can view a range of steam shower units.
The bathroom is the one room in the house that isn't communal and that means the design should be such that it ticks all of your boxes. Take your time and browse online for bathroom suite ideas, then head down to the nearest bathroom showroom and make your dream bathroom a reality.